ACT 9582-2 dieter ilg mein beethoven, ACT 9544-2 dieter ilg parsifal and ACT 9522-2 dieter ilg otello live
mein beethoven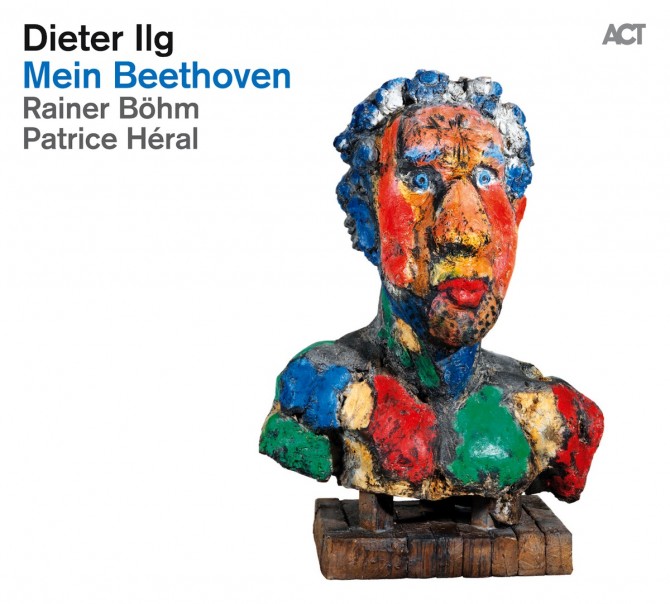 ACT 9582-2
dieter ilg
mein beethoven
dieter ilg, trio with rainer böhm (p) and patrice heral (dr)
"A feast for the ears, not only for hard-core jazz fans, but for all those who love music." (Thomas Quasthoff)
"Mein Beethoven" is the logical next step for Dieter Ilg.
His last album "Parsifal" – a chamber-jazz interpretation of Richard Wagner's sacred festival work, which Focus magazine called a "highlight in the Richard Wagner Year 2013" – closed with a whispered theme from Beethoven's Ninth ("Ode to Joy"), retitled "Sehnsucht" (Longing) by Ilg. Now he has satisfied that yearning and recorded an entire album, "Mein Beethoven", dedicated to this Olympian of German classical music, the most classical of all our composers, the one-time "superstar of the music capital Vienna": Ludwig van Beethoven.
The choice to do so was not only logical in view of the connection to its preceding album, but also with regard to the career of Ilg, who is not only "one of the best jazz bass players of our time" (Fono Forum), but also a musician who keeps raising the bar for bandleaders everywhere. Ilg has earned his ranking as a partner to Randy Brecker, Nguyên Lê, Dave Liebman, Albert Mangelsdorff, Dhafer Youssef, Rebekka Bakken, Nils Landgren or Charlie Mariano and currently as the duet partner of Till Brönner and a member of star baritone Thomas Quasthoff's jazz ensemble. With his own projects he has explored his personal cultural roots in the European music tradition. In 1992 he was involved in the revolutionary flamenco-jazz experiment "Jazzpaña", the Grammy-nominated first ACT album. From 1997 onwards he worked on folksongs together with Wolfgang Muthspiel and Steve Argüelles. In 2010 he fulfilled his long-held dream of eking out the jazz possibilities of Guiseppe Verdi's "Otello" in the trio that still exists today with Rainer Böhm and Patrice Héral. It was a showpiece of improvisational art music for which he was awarded the ECHO Jazz as "Best Bassist National". The "Live at Schloss Elmau" version was the starting gun for Ilg's collaboration with ACT, and it was followed by the Wagner gamble "Parsifal", "a chamber musical, acoustic jazz opus" (Spiegel Online), for which he received his second ECHO Jazz in 2014.
With "Mein Beethoven" Ilg, along with his perfectly harmonising trio, demonstrates that he is not about gimmicky "jazz goes classic" crossover music, but about taking the originals and somehow making them his own. His incorruptible eye for the essence, his mastery of making the monumental sensual and human, is impressive.
It is not only Ilg's singing, grooving bass, savouring every nuance, that makes his Beethoven arrangements such a joy to behold, it is also Reiner Böhm's sparkling touch, his pianistic greatness in respectfully playing around some of the most beautiful melodies in music history, and Patrice Héral's ability to always add orchestral splendour through his extraordinary drumming, with fitting fills and variations.
Is it jazz? Or is it not simply wonderful music,
enchanting, flowing, dreaming, condensing, singing, relating, grooving….? It is a synthesis that will make Ilg's "Mein Beethoven" your Beethoven.
Dieter Ilg about the project:
Ludwig van Beethoven, born in 1770 in Bonn, first attained notoriety as a pianist, and especially for his passion for improvisation. Always searching for ways to optimise, to further develop music, to form and achieve perfection, he wanted a composition to grow with all the abilities of its creator, changing constantly. Throughout the course of his career his reputation as a composer grew year on year, then ultimately, in the music capital Vienna, he finally rose to the status of what we would today call a superstar. His works are revolutionary milestones. The quiet and monumental moments in his 9th Symphony, his romantic and masterfully demanding piano sonatas and their form breaks, the impetuous eruptions, rough edges and redesigns of the structure of his string quartets, and his elegant and unconventional arrangements of Irish folk songs all fascinate, to mention just a small fraction of his oeuvre. They are ingenious templates for experimentation, even in the 21st century, and Beethoven is undoubtedly one of the great improvisers of Europe's music history, approaching everything with passion, imagination and the will to create something new. Without Beethoven, today's music would sound different – it's jazz too. Rainer Böhm and Patrice Héral accompany and guide me through the formative oceans of Beethoven's world. Together with them I want to transport Beethoven's musical expression to the modern day in the true tradition of the man, with a will to in some way make it my own. I can't think of any place I would rather sail right now. My Beethoven.
parsifal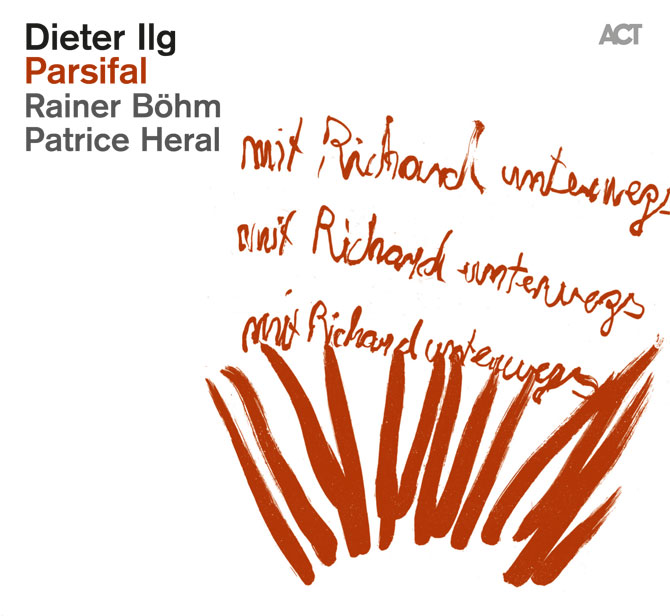 ACT 9544-2
dieter ilg
parsifal
dieter ilg, trio with rainer böhm (p) and patrice heral (dr)
Jazz and classical, Dieter Ilg knows both worlds well. Partly to learn about the history of music, he studied classical double bass at the Freiburg music academy though he had decided to become a jazz bass player at the age of 16.
Now one of the leading jazz bassists in Europe, Ilg has occupied himself for years with Guiseppe Verdi, a contemporary and Italian Counterpart of that most formidable, gigantic, and definitely most German of all opera composers, Richard Wagner. In a trio with pianist Rainer Böhm and drummer Patrice Héral, his subtle and unique interpretation of the famed Verdi opera "Otello" in a studio recording and in the ACT live version "Otello live at Schloss Elmau", Ilg elicited rave reviews from critics and audiences alike: "It has been a long time since a trio has seemed as intertwined with each other as this one," adjudged the NDR broadcasting company. "If not already the case, Ilg, Böhm and Héral are now at least a perfect example of unfettered music making," wrote Jazzthing. Norway's Jazznytt magazine summed it up with one word in its CD critique: "Beautiful". And consequently the double bass player was then honoured with the Echo Jazz Award 2011.
So it wasn't a giant leap from Verdi to Wagner, and least of all to his last opera, the "sanctifying festival for the stage" 'Parsifal', which also lends its name to Ilg's latest ACT album. "There are some overlaps," says Ilg: "The opening melody in the prelude to Wagner's Parsifal is similar to the famous double bass solo near the end of Verdi's Otello. Wagner completed many parts of his Parsifal compositions during his journeys to Verdi's homeland, before ultimately dying in Venice."
Ilg's past occupation with mostly German and European folk melodies took him to Wolfram von Eschenbach. The epos "Parzival" from the first decade of the 13th century is from him, and it fascinated Wagner and served him as inspiration. It deals with world religions, misunderstandings and irritations, with understanding and deliverance – themes that have obviously not become any less topical since Wagner, and that also affect Ilg. With this recording, the bassist is not forced to reinvent the wheel, but he is happy to be able to choose the path on which that wheel rolls.
On 'Parsifal' Dieter Ilg succeeds with an astonishingly logical, chamber musical reinterpretation of the opulent material. "The monumental becomes sensual and the sensual monumental," he explains, and demonstrates his seemingly unending creativity with impressive virtuosity and stylistic variability in each and every piece: The title of the first track "Zum Raum wird hier die Zeit" indicates the tone of the album – an intensive, suspenseful and masterly game with opposing extremes. The bombastic "Parsifal" motif alternates between the major and minor keys and is interpreted excitingly and openly; the hymnal is rendered playful; the "Klageruf" sounds less plaintive than demanding and mighty, the "Zaubergarten" enchants almost weightlessly, with light melancholy; Wagner's programmatic "Ich bin ein reiner Tor" is condensed with a driving groove and towers up dramatically. And it suffices to hear how the impressive "Amfortas" theme is introduced, varied upon, played around and injected with dynamism to see that this trio recognises the inexhaustible musical opportunities that classical music holds for jazz, and exploits them like no other.
Ilg approached his 'Parsifal' entirely without intellectualisation and free of inhibitions. There were almost no strict guidelines for his companions, "We go with our intuition and enjoy the potential of the moment" the double bassist explains, "That way the individual abilities of the musicians come out the best". Rainer Böhm masters the situational challenge spectacularly again, and with magnificent derring-do, as does the French drummer Patrice Héral, who once again melodically and sensitively integrates himself in a way that few of his fellow percussionists master.
'Parsifal' is definitely another masterpiece of improvisation, which surprisingly ends with another famous German composer: an almost breathy version of Beethoven's "Ode an die Freude" (Ode to Joy), Wagner is known to have been a passionate admirer of Beethoven. One of the focuses of his late work is the search for peace – both inner and outer," Ilg explains. "I would be happy if people hearing my Parsifal felt that peace of mind by the end of it."
otello live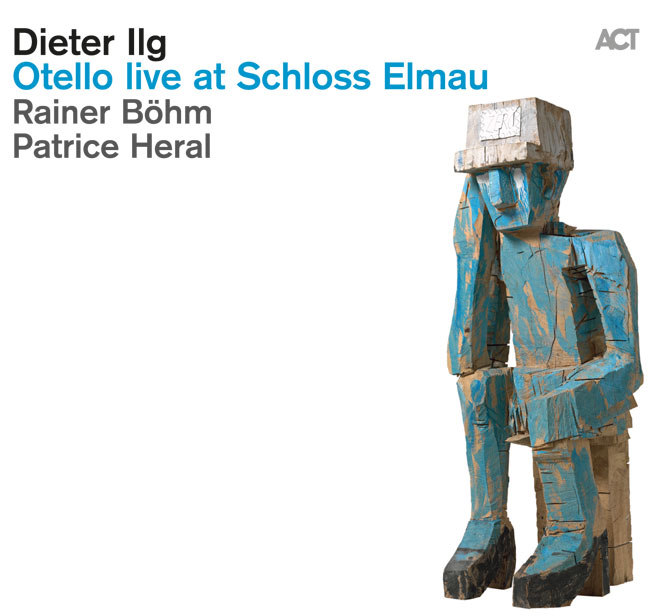 ACT 9522-2
dieter ilg
otello live
dieter ilg, trio with rainer böhm (p) and patrice heral (dr)
In the fourth act of Giuseppe Verdi's 'Otello' the story culminates with Othello, frantic with jealousy, planning to murder his wife Desdemona. At this point you hear Verdi's stroke of genius – a powerful bass line that goes right through you, and for bass players this line has been one of the highlights of classical music ever since. Dieter Ilg discovered it early in his career and it has been the initial part of his daily practice ever since.
Nevertheless, the road to Ilg's first album on ACT, 'Otello live at Schloss Elmau', was a long one; an internationally famous bass player, he has had a remarkable 20-year career outside classical music. After having tried recorder, violin and viola, as a 13-year-old from Offenburg he eventually discovered the upright bass. Although he started studying classical music in Freiburg in 1981, the course was already set for jazz – Joe Viera met him as talented 17-year-old school boy and made him a regular member of his sextet, and the young man was inspired and instructed by Eddie Gomez, Ron McClure, Adelhard Roidinger, Rufus Reid and Miroslav Vitous. While studying at the famous Manhattan School of Music with Dave Liebman as his mentor, Ilg had already played with several big names on the scene. He had hardly returned from the USA when things started happening quickly back home: Ilg founded his first successful trio together with John Schröder and Wolfgang Haffner and became a regular member of Randy Brecker's Quintet. He also received some extremely sought-after sideman jobs in Albert Mangelsdorff's quintet, in Ngyuên Lê's trio, playing with Rebekka Bakken and later in Till Brönner's band. Together with Christof Lauer he travelled around the world for Goethe Institute and made several more high-profile musical friends, including the saxophonist Charlie Mariano, the pianist Marc Copland and the guitarist Wolfgang Muthspiel.
Searching for a recognizable project that would suit him, Ilg turned to his long-standing passion for Verdi and began to rediscover it. "Otello is an inspiration," he says. "It is continuously in motion. Just take a look at Verdi's harmonic turns that have often been used in jazz, but just in a different way. This is a perfect example of bridging the gap. Equally important is the dramatic component of the music that can be created through the individual interpretations and improvisations." For this project he not only returned to the line-up he had favoured in the early stages of his career, but also found the two ideal musicians for his trio.
The pianist Rainer Böhm had first attracted Ilg's attention in 2007, when he was judging the Jazzhaus piano competition which Böhm won. In the meantime, Böhm has been awarded with several other important accolades – most recently he followed in Ilg's footsteps by winning the Jazzpreis Baden-Württemberg. During his years of study in the USA Böhm proved to be an exceptionally talented pianist, who has a gentle touch but can also play with immense energy. This could be heard last on 'Berlin – New York' (ACT 9669-2), which he recorded together with Ben Kraef. The style of the French drummer and percussionist Patrice Heral is also one of a kind – it varies from subtle passages to powerful solos with loops and mouth percussion.
Perfectly fitting alongside Ilg's singing bass, these two accompanists are the ideal choice. The trio precision in the use of musical expressions is balanced through their recognition of the importance of pauses, as well as the power of calmness. Examples of technically brilliant realizations of these principles are the fragile 'Ave Maria' or on the other side of the spectrum, the groovy version of the famous 'Fuoco di Gioia'.
Ilg was so convinced of his Otello project that he released a studio production of it on his own label 'Fullfat' in March 2010. Shortly after that he received the German Echo Jazz Award 2011 for Best Bass Player (national). In the meantime, after numerous tours and concerts the trio was better attuned than ever and Ilg decided to expand their repertoire. These are just some of the reasons why they wanted to do a live recording at Schloss Elmau. "We've included five new arrangements of arias and the others have changed during the two years of performing them. Moreover, the location and the interaction with the audience influence the music more than you would think."
'Otello live at Schloss Elmau' is much more than merely a live recording – it is an impressively independent variation of Ilg's Otello arrangements. The album is an outstanding example of jazz musicians transferring classical into improvised music, as well as further proof of the exceptionally inspiring influence of Schloss Elmau on musicians. It could be said that Schloss Elmau functioned as the catalyst for this masterpiece, nestled away in the Bavarian highlands. For Ilg it served as the setting for the personal highlight of his passion for Verdi, a fascinating musical adventure that for all others crosses borders between classic and jazz.